I have worked extensively in education during my life. In fact, from my first years at university, I probably conceptualized myself as a teacher more than anything else.
After early experiences in as a volunteer English teacher for refugees when living in Mexico City (1986), and as a volunteer Spanish teacher for elementary students when living in Minneapolis (1994), my first paid teaching position was as a Teaching Assistant while studying graduate level Spanish at the University of Pennsylvania (1995-1997). I taught Spanish 101/102 (beginning level courses) and did some coursework in methods and pedagogy.
I went on to teach Spanish for one year at the high school level at a private school in New Jersey (1997-1998), which included all levels of Spanish, including an AP Spanish course.
But my main "career" as a teacher was when I moved to South Korea in 2007 to work in EFL (English as a Foreign Language). I worked at various "hagwon" (after-school private academies) as well as taking a year to work at a rural public elementary school.
Brief Work History
Karma Language Academy (카르마 언어학원), Goyang City, South Korea
Classroom EFL Instructor, May 2011 – July 2018
Taught wide range of students and levels, from 1st grade through 9th grade.
Was chief TOEFL curriculum design and instructor, including intensive test prep and practice
Designed and deployed an in-school competitive debate and speech program for advanced students
Designed and deployed an innovative "Korean history in English" curriculum for advanced students
Hongnong Public Elementary School (카르마 언어학원), Yeonggwang County, South Korea
Classroom EFL Instructor, April 2010 – April 2011
Taught EFL as co-teacher in classroom to Kindergarten through 6th grade students in a rural public school
Designed and deployed an after-school enrichment program for 3rd through 6th grades, including drama and arts
L-Bridge English Academy (엘브리지 영언어학원), Goyang City, South Korea
Classroom EFL Instructor, September 2007 – September 2009
Taught advanced EFL to 3rd through 6th grade students
Designed and published in-house curricular materials to support TOEFL-style speaking and writing
Some Thoughts on Teaching
My boss at my most recent job (Keum Moon-chan) once asked me what I considered to be the most important characteristic of a teacher. I answered, without hesitation, "Kindness." I stand by that, but obviously it's a very simplistic view.
I think that teachers influence students' lives more in how they model behavior than in the specifics of what they present. When I think back to the teachers I remember most from my own education – both good and bad – the teachers I recall most vividly and who I think about most are those with unforgettable teaching styles. What they actually taught is often cloudy at best.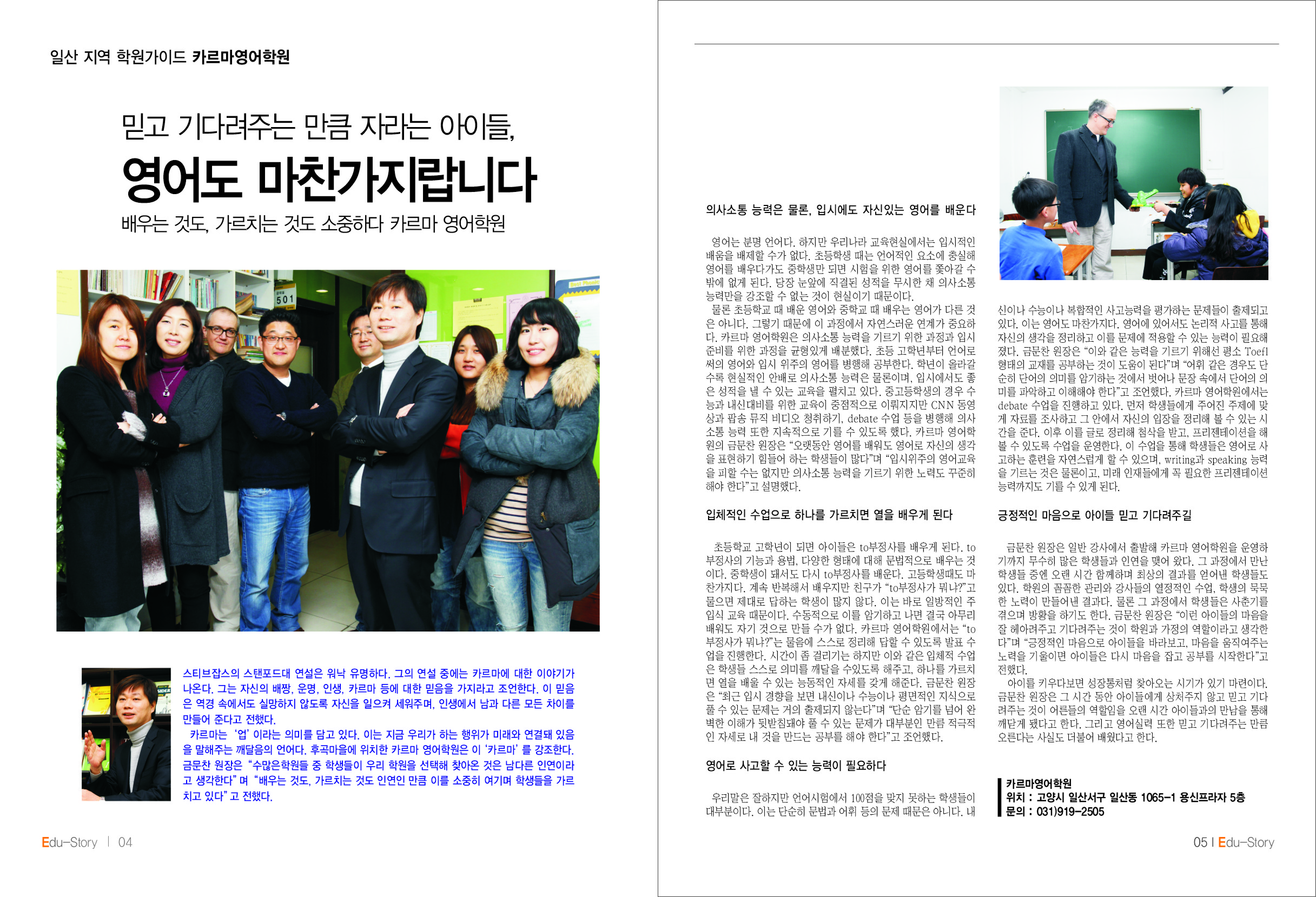 Alligators
When teaching in Korea, I developed a certain "brand image" that I presented to students. I had a mascot toy plastic alligator, which became a kind of icon of my identity – you can see me holding the plastic alligator in the school flier above.
I would put small cartoon sketches of alligators on handouts and on the whiteboard in the classroom. When I would meet former students years later, they would say, "Oh, you're the alligator teacher."
Once, a third grader asked me, "Teacher!" (Korean students always start every question with "teacher" – they're translating the deferential Korean "seonsaengnim" which they must use with their Korean-speaking teachers to be considered polite).
"Why do you like alligators?" She gazed at my collection of toy alligators which I'd brought to class that day.
I answered "Because you like alligators."
Which is the truth. It was just an accident that the toy alligators became my "brand image" – the first one was a gift to me by a fellow teacher.
Curriculum and Testing
When teaching as an American in the Korean education system, I would often ponder the huge differences in attitudes to learning and testing between our two cultures. One philosophical change that came about because of my experience was that I learned to appreciate the centrality of evaluation (testing) to formal education at all levels. Coming from a "hippy" background growing up in the 1970s in northern California, tests were originally anathema to me. I didn't think they served any purpose, and I thought education would be better off without them.
The Korean approach is diametrically opposed, however. In Korea, the test is the education. All else is simply preparation for the test. My own current view is somewhere in the middle, but I have taken away the following core idea (reprinted here from my personal blog).
There is nothing wrong with "teaching to the test." Let's do it! But here is the giant caveat: make sure the tests are well-designed. Make them scientifically designed, so as to elicit the knowledge and skills we're actually interested in conveying to our students. As long as this condition holds, "teaching to the test" is the perfect way to ensure that your curriculum is in line with your objectives.

The problem, of course, is that most tests (even the professionally created and deployed major tests such as the Common Core, SAT, etc.) are far from being truly well-designed vis-a-vis the kind of skills students actually need, nor are they really fair or pedagogically appropriate in relation to what we know about child psychology and development.

The important impact this has on teaching is as follows: student evaluation and test design are very important.
The testing problem isn't so easy in the "real world," of course. Mostly we, as teachers, have very little control over what the tests look like and how they work. Nevertheless, even in the context of such externally mandated testing regimes, we can be successful as long as we never forget that when designing curriculum, those tests must always be in view.
I have written quite extensively about this topic on my personal blog. See, for example, "The Metaphysic of the Test" (June, 2011).
You can get more perspective on my views on teaching by reading a series of articles I wrote some years ago on the topic of EFL in Korea: "If I Ran the Hagwon", divided into parts 1, 2, and 3.
Portfolio
I wrote frequently and in detail about my daily experience teaching in Korea during my 11 years there. I took pictures and even made videos. There is so much (almost 1000 blog entries discussing events at my work) that I thought it might be helpful to provide a curated list of some entries about my teaching, below.
2008
2009
2010
2011
2012
2013
2014
2015
2016
2017
2018